Home
The next Board Meeting will be held **Thursday ** December 28th at 5:30 pm at Station 2. We wish everyone a Merry Christmas and Happy New Year!
*****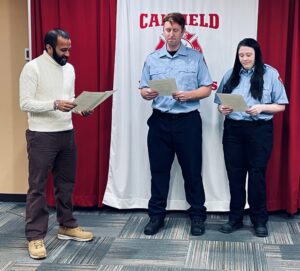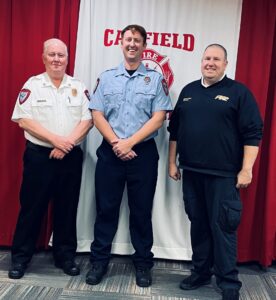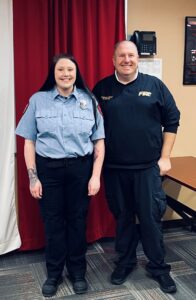 Congratulations to Shaun Serich and Courtney Kee who were sworn in as Full-Time Firefighter/Paramedics.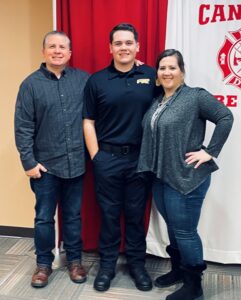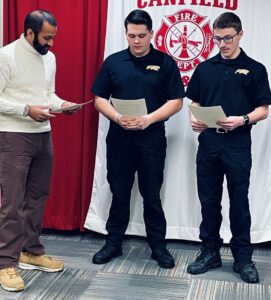 Congratulations to Daniel Earley who was sworn in as a Part-Time Firefighter/EMT.
*****
*****
Welcome to our newest Board member Mrs. Denise Harlan.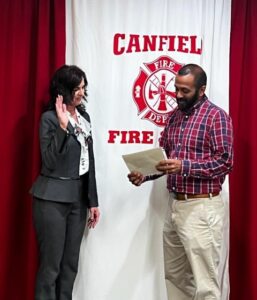 *****
A special thanks to Mr. Greg Bestic who served on the Board from 2016-2022.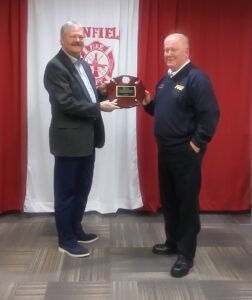 *****
Thank you to all who voted for the Fire Levy!
This funding will enable us to continue providing the highest levels of fire and EMS service to residents of the City of Canfield and Canfield Township.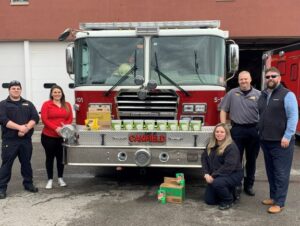 Special thanks to State Farm Agent Jason Reckard for his donation of twenty smoke detectors to the Fire District!
(To request a smoke detector, please call 330-533-4316, x2124.)
*****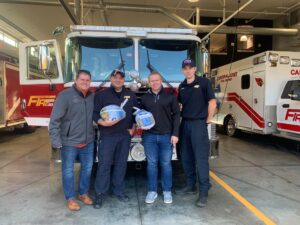 Special thanks to Team Marzo – NextHome Realty for donating two turkeys for Thanksgiving!
*****
Our Renewal Levy passed…Thank you to all who voted!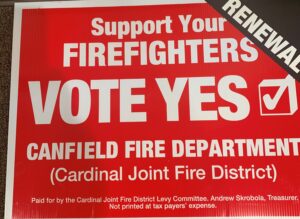 Congratulations to our newest Full-Time Firefighter/Paramedic – Jen Arendas.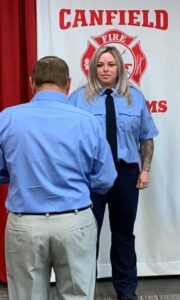 *****
The District's newest Ambulances
*****
Tower 101 – The District's newest Ladder Truck

For a virtual tour of Tower 101, click on the link below:
*****
American Legion Honors Safety Forces
Captain Troy Kolar and Deputy Chief Matt Rarick were recognized by American Legion Post 177 for their efforts in starting a Strategic Response Team in Canfield.
*****
Firefighters, Others Recognized as Heroes



The CJFD acknowledged the lifesaving efforts of several individuals at the January 2020 Board meeting. Firefighters Mike Felcyn, Mike Sofranko, Brock Trimmer, Bob Dutton, and Gio Melia received certificates, as did Police Officer Scott Bennett. Certificate recipients not present were Firefighter Ryan Caron and Dispatcher Jenny Wright. Also were recognized were civilians Craig Williams, Don Adams and Emma Dunlap. Thank you for your heroic actions!
*****
CHIEFS AND OFFICERS EARN CREDENTIALING
CANFIELD, OH, December 17, 2019– Chief Don Hutchison and Deputy Chief Matt Rarick, both of Cardinal Joint Fire District, recently earned the Ohio Fire Chiefs' Association's Fire Chief designation. To achieve this designation, applicants are measured against a predetermined set of standards. Applications are reviewed by a panel of the chiefs' peers statewide and voted on by the Association's Board of Directors.
Hutchison and Rarick join fellow credentialed officers Captains Rob Tieche, Troy Kolar, and Conner O'Halloran, making Cardinal Joint Fire District the first department in the Mahoning Valley to have all members of its command staff credentialed.
The Ohio Fire Chiefs' Association began this designation in 2014 and it is open to chiefs of full-time, part-time and volunteer departments. Measured criteria include experience, education, community leadership, and Fire Service leadership skills. Credentialed officers must renew their credentials every three years.
*****
CJFD was recently in the news…

…check out the entire article on our In the News Page.
*****
Devin Strong T-Shirt Fundraiser a Success!
During the month of May, firefighters sold over 400 t-shirts to raise money for the family of Devin, who in January of 2018 was diagnosed with a rare and aggressive type of brain tumor.
Thank you to all those who supported this fundraiser!
Special thanks to Board Member Mike Clayton for 6 years of service to the District (2012-2018).

*****
Firefighters got together for a Morning Workout at Station 2

*****
Chief Hutchison Presents Lifesaving
Award

to Firefighters, Police

*****
Mahoning County Fire Chief's Association Annual Symposium
◊◊◊◊◊
Official Opening of Fire Station #2
October 7, 2017
Fire Station #2 – 7075 Herbert Road
Opened June 26, 2017
*****
[/et_pb_text][/et_pb_column][/et_pb_row][/et_pb_section]